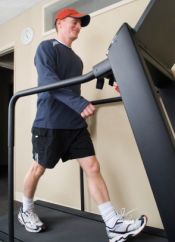 Gait Analysis
A gait analysis helps in the assessment of patients who have conditions that impact their mobility, especially their ability to walk. It is also used on athletes to help them run more effectively or to correct posture disadvantages.
New Light Physical Therapy and Wellness Center also offers a falls assessment program to help patients determine if they have a higher probability of falling and the steps they can take to lower the odds.
After a thorough analysis, we work with clients to customize successful treatments to overcome weakness and loss of balance.